Matt Dovey is very tall, very English, and most likely drinking a cup of tea right now. A wise woman once told him the scar on his arm was the Sign of Prophecy and marked him for greatness, but he's not so sure. He now lives in a quiet market town in rural England with his wife & three children, and despite being a writer, he still hasn't found the right words to properly express the delight he finds in this wonderful arrangement.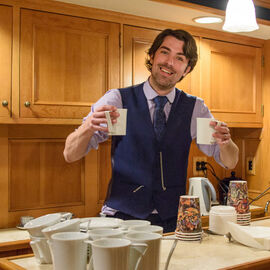 His surname rhymes with "Dopey", but any other similarities to the dwarf are purely coincidental. He was the Golden Pen winner for Writers of the Future volume 32 (2016), was shortlisted for the James White Award in 2016 and has fiction out and forthcoming all over the place. He's an associate editor at PodCastle and a member of the Codex and Villa Diodati writing groups.
Rumours that he is one half of Baker and Dovey are completely scurrilous, ridiculous and true. To date, he has yet to express any remorse for the literary crimes committed through that collaboration.
Work on Escape Artists
Author
Escape Pod
PodCastle
Narrator
Escape Pod
PodCastle
Ad blocker interference detected!
Wikia is a free-to-use site that makes money from advertising. We have a modified experience for viewers using ad blockers

Wikia is not accessible if you've made further modifications. Remove the custom ad blocker rule(s) and the page will load as expected.