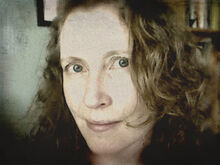 Maria Haskins
is a Swedish-Canadian writer and translator. She writes speculative fiction and poetry, and debuted as a writer in Sweden in the far-off era known as the 1980s. Since 1992 she lives in Canada, and is currently located just outside Vancouver with a husband, two kids, and a very large black dog. 
Her most recently published book is 'Dark Flash', a collection of flash fiction stories. Her stories have appeared in, or will be appearing in, Flash Fiction Online, Shimmer, Gamut, Capricious, and elsewhere.
Work on Escape Artists
Cast of Wonders
Ad blocker interference detected!
Wikia is a free-to-use site that makes money from advertising. We have a modified experience for viewers using ad blockers

Wikia is not accessible if you've made further modifications. Remove the custom ad blocker rule(s) and the page will load as expected.