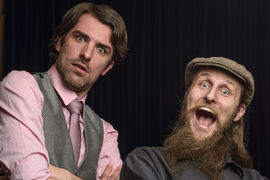 Baker & Dovey is a gestalt entity which currently inhabits two human fools separated by the Atlantic ocean and several thousand miles of dirt. When not authoring ludicrous parodies of childhood imaginings, the entity lives in the pauses between words, in the spaces between heartbeats, in the rats between the walls. UNESCO has not responded to e-mails asking whether Baker & Dovey is a global cultural asset or a sign of humanity's inevitable return to the muck whence it came.
Work on Escape Artists
PodCastle
Ad blocker interference detected!
Wikia is a free-to-use site that makes money from advertising. We have a modified experience for viewers using ad blockers

Wikia is not accessible if you've made further modifications. Remove the custom ad blocker rule(s) and the page will load as expected.