Aidan Doyle is an Australian writer and computer programmer who loves travelling and has visited more than 100 countries. His experiences include teaching English in Japan, interviewing ninjas in Bolivia and going ten-pin bowling in North Korea. His stories have been published in Lightspeed, Strange Horizons, and Fireside.
Aidan joined PodCastle as an Associate Editor in 2016.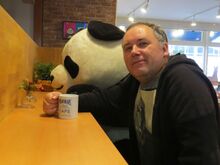 Work on Escape Artists
Escape Pod
PodCastle
Author
Narrator
Cast of Wonders
Ad blocker interference detected!
Wikia is a free-to-use site that makes money from advertising. We have a modified experience for viewers using ad blockers

Wikia is not accessible if you've made further modifications. Remove the custom ad blocker rule(s) and the page will load as expected.